Excited to return to your family's favorite campground as soon as the flowers begin to bloom and the snow melts? We at Alpin Haus certainly are! Spring is right around the corner and we are thrilled for all this year's camping adventures to begin. In fact, we're so excited that we have come up with our top five springtime camping activities that are guaranteed to provide fun for the whole family! Whether you're returning to your favorite campgrounds or discovering new locales this spring, these five activities are sure to keep the good times rolling.
1. Hiking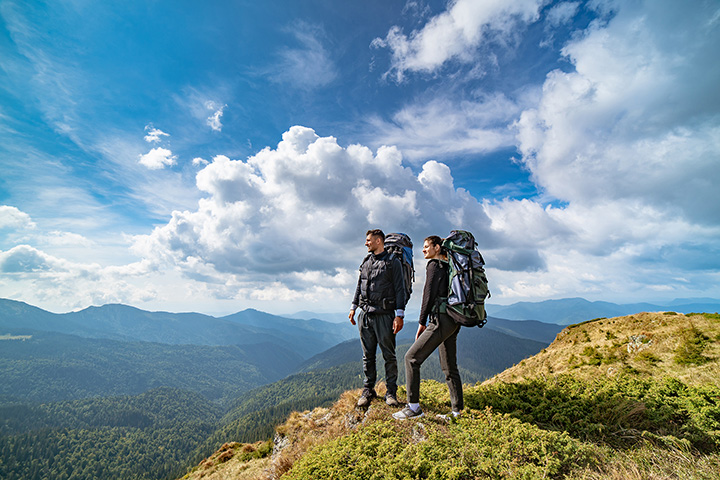 The first on our list may be a little on the nose, but hiking is an absolute springtime must. One of the pros of camping during spring is that it is not the peak season yet so there are fewer crowds. Be sure to layer up and breathe in that fresh spring air by going on a hike or nature walk.
The Northeast is home to several breathtaking mountain ranges including the Adirondacks, Catskills, and the northernmost part of the Appalachians. There are countless trails to choose from that cater to all skill levels. Whether you're an aspiring Adirondack 46er or prefer peaceful strolls through the woods, there is sure to be a hiking trail for everyone.
Springtime is known as the season of new beginnings. If you love capturing the beauty of the outdoors, bring along your camera on your next hike to capture memories with friends and family as well as the budding spring landscape.
Did you know that the Northeast is home to a wide array of wildflowers? While hiking with the family, take part in a wildflower scavenger hunt and be on the lookout for early spring blooms such as merrybells, wild geraniums, trout lilies, bloodroot, blue cohosh, and many more.
Springtime is the perfect season for birdwatching. Bring a pair of binoculars and do some birding on your hike! If your travels lead you to upstate New York, you may get the opportunity to spot Red-winged Blackbirds, Great Blue Herons, and Ospreys to name a few.
Whether you are planning to photograph the stunning spring landscapes, participate in a nature scavenger hunt, or take a walk in the woods to destress, hiking is the perfect springtime activity that is sure to get fresh air into your lungs and get the whole family outdoors.
2. Campfires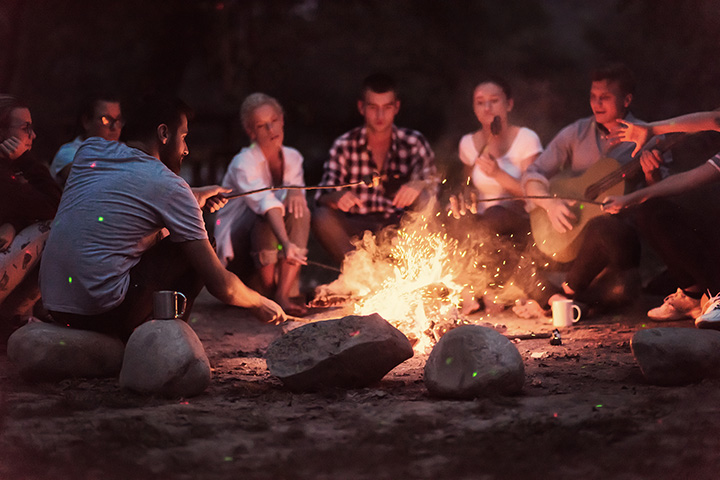 One of the aspects of spring we personally love is the moderate temperatures that make for warm breezy days and cooler nights. We think the best way to end the day is cozying up with family and friends around a campfire. Whether you're telling haunting ghost stories or playing games and drinking hot cocoa, an evening campfire is the best time to disconnect to reconnect. Life can get busy which is why we believe a campfire is the perfect time to catch up on some must needed quality time.
What is a camping trip without s'mores? Sitting around a campfire is the perfect time to try those delicious s'mores recipes you have saved to your Pinterest board. Pro tip: The next time you make s'mores, try swapping your milk chocolate for a Reese's peanut butter cup (you'll thank us later). Another fun possibility is bringing along pretzel chips in addition to graham crackers if you're looking to add a salty flair. Check out our S'mores recipe blog for more ideas. The s'mores possibilities are truly endless.
Whether you spend time around the campfire singing songs and playing games or stargazing, it is sure to bring the whole family together to have fun and create memories.
3. Trips to the Lake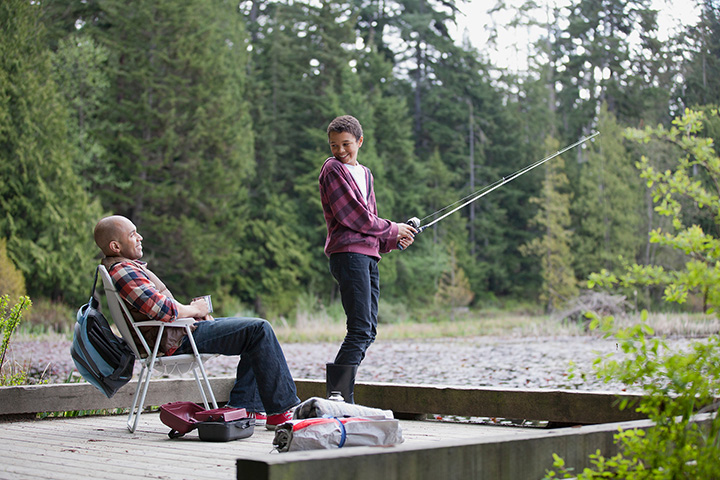 We absolutely love springtime camping. The weather is cooler and campgrounds
are more affordable. It may not be swimming weather yet but a trip to the lake still offers a wide array of family fun. Fishing season begins April 1st in New York State and we are just as excited to dust off our fishing gear. Did you know that New York State is home to more than 7,600 lakes and ponds? Your springtime camping trip will not be complete without a trip down to the water. Cooler temps need not prevent you or your family from fun lake-based activities. It may be too chilly to boat but shoreline fishing is an absolute blast. Spending time on the water is a great way to take in beautiful views and create memories that will last a lifetime. Register for your NYS fishing license and hit the lake. Some of our favorite fishing destinations in the Northeast include Lake George, Great Sacandaga Lake, Oak Ridge Reservoir, and Saranac Lake. We at Alpin Haus may be biased but we believe that time spent at the lake is the perfect way to get outside and create memories.
4. Biking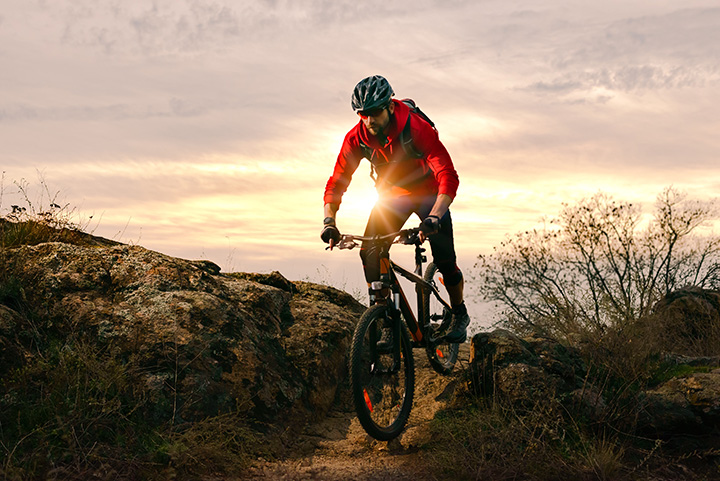 After a long winter of being indoors, what is more refreshing than packing up your bikes and bringing them along to your family's favorite campground? If you consider yourself a thrill-seeker, mountain biking may be the perfect springtime activity for you. Biking is a great form of exercise that presents exciting ways to challenge yourself in the great outdoors. The adventure and thrills it offers will not disappoint.
New York State is home to numerous popular trail networks including trails in Gilbert Lake State Park, Thatcher State Park, and Sterling Forest State Park. With so many trail networks across the Northeast, there are trails that cater to all skill ranges and levels of experience.
Biking is a great way to explore the outdoors and can be active fun for the whole family. Whether you are taking a relaxing bike ride around the campground or traversing a rugged mountain, biking is a great way to explore and soak up the nice spring weather.
5. Hammocking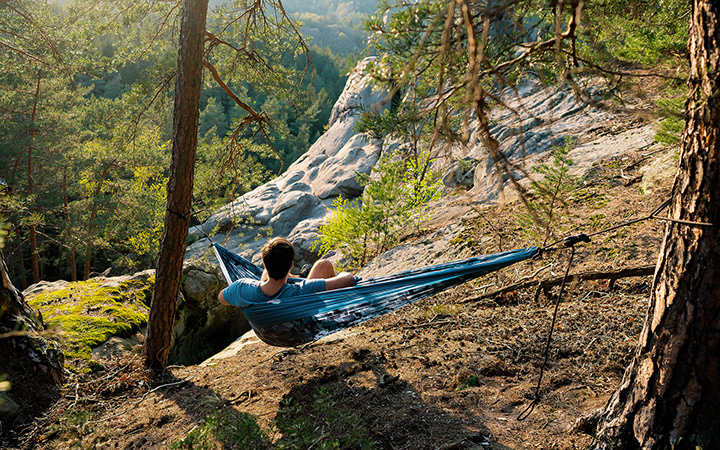 Last but certainly not least, hammocking has made it onto our list of top five camping activities. On days you want to kick back and relax, hammocking is the perfect way to decompress and take in the stunning nature around you. Hammocking is great because you can do it anywhere. We at Alpin Haus believe a hammock is the quintessential lounging device if you want to be cozy, comfy, and fully immersed in nature.
If you are seeking a more portable option, consider packing a camping hammock with some straps. In this case, all you'll need is a convenient and scenic location between two well-sized trees and you're good to go.
Hammocking is a great way to cozy up and still be outside. Gather some blankets from the RV and your favorite book or magazine and get in some R&R. On slightly cooler days, you could use an insulated hammock for maximum warmth and coziness. Don't forget to pack up your hammock so you can set it up at your campsite this spring!
Here at Alpin Haus, we find that camping is one of the best ways to spend time with family and friends and enjoy the outdoors. Create memories this spring by trying out our top five spring camping activities!